Call us today: (612) 310-8995
Improved nutrient absorption
Increased oxygen exchange in soil
More efficient water usage
Enhanced thatch breakdown
100% satisfaction guaranteed
Lawn aeration will help the soil breathe
Aerating a lawn will supply the soil with air by the removal of cores or plugs from the grass. Aerification is done with a special machine having hollow spoons mounted on a camshaft. Known as a core aerator, it extracts 5/8" wide cores of soil and deposits them on the lawn. Aeration cores are typically between 2-3" deep and spaced between 2-6" apart.
Aerations should be scheduled in conjunction with naturally occurring growth cycles in the grass. Root development happens during the spring and fall and can be enhanced with an aeration. And during your aeration service, it is also a great idea to combine lawn fertilization with grass seeding for maximum benefits.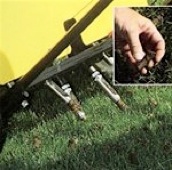 Soil compaction has a negative effect on your lawn

Aerating is a great way to assist in nutrient and oxygen delivery to your lawn while maximizing root development throughout the season.
Aeration will make your lawn healthier
Core-aeration is our most recommended practice used to enhance the health and appearance of any lawn. Aerating, sometimes called lawn aerification is the best way to improve air/gas exchange, increase water absorption, and nutrient uptake in your grass. The main objective is to build stronger grass roots which will thicken up the lawn to improve the look and color.
Strengthen your lawn with core-aeration





Aeration quality control checklist
Complete lawn inspection
Note all flagged areas to avoid damage
Complete clean-up after service
Leave-behind report card will be left at your door




1. Choose your services
2. Buy with your card or bank account
3. No account necessary via PayPal
4. We'll contact you to set up service
5. Prices are valid for lawns up to 21,500 sq ft.
Questions? Call us (612) 310-8995 or contact us


State-of-the-art aerator machines
Our powerful, light weight core aerator service machines are designed to pull out 50% more cores per square foot and produce more consistent, deeper coring. We use the same style machines used on golf courses.
SeasonGreen's professional turf managers
Our knowledgeable Managers know exactly how to care for your lawn. We'll set up your aeration service to ensure the best seasonal results and make sure that your property is getting serviced at just the right time to maximize benefits and keep your lawn healthy.
Award-winning service team
Our uniformed, insured, professionally-trained service team will follow exact procedures on your property to guarantee successful lawn aeration results.
Free lawn analysis to help improve your lawn
SeasonGreen is your eyes and ears on site. We will examine your entire lawn during our service, then leave you a detailed analysis and give you ideas to help you further improve your lawn.
Get started now and help your lawn flourish
1. Choose your services from the menu
2. Buy with your card
3. No account neccessary using PayPal secure service
4. We'll contact you to set up a convenient service date
5. Prices are good for lawns up to 21,500 sq ft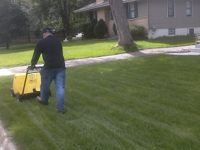 Soil compaction occurs in all lawns naturally and has a negative impact on nutrient uptake and water infiltration, in addition to being a physical barrier to root growth. This results in lawn deterioration, poor top growth, and a lawn that wastes money on fertilizer and water.
home lawn aeration service