Call us today: (612) 310-8995
SeasonGreen professional fertilization services
From designing a fertilization program to scheduling your services, our turf mangers will take care of everything. Plus, we have the knowledge, equipment, products, and experience to deliver on our promise of a nice healthy lawn you'll be proud of.
Precisely-timed treatment scheduling
To keep up with the demands of Minnesota's cool season grasses, we offer precisely timed spring, summer, and fall fertilization treatments. Plus, we'll schedule treatments of over 100 varieties of seasonal broadleaf weeds such as dandelion, crabgrass, creeping charlie, and clover.
The importance of hiring a proessional service
To keep your lawn looking it's best requires specific fertilizer and weed control treatments at exact times throughout the year. But applying cheaper products can actually be unhealthy and even cost you more money in the long run. So use your free time to enjoy the lawn, and stop wasting money getting less than perfect results.
Lawn care fertilization overview
By slowly feeding your lawn with a controlled-release granular fertilizer, you will notice a better color response and your lawn will thicken up drastically. Micro-nutrients; nitrogen, potassium, zinc, calcium, iron are usually not present in Minnesota soils. So it's important to supplement these nutrients to ensure your lawn has a good defense to tough environmental conditions, diseases, and weed infestations.
Lawn care fertilization service is done using a broadcast fertilizer spreader that will ensure uniform distribution of nutrient particles. Each particle contains a series of different nutrients that is vital in feeding grass plants and to help ensure optimal health. Grasses do best when major macronutrients such as Nitrogen(N) and Potassium(K), are combined in certain (2 to 1, 1 to 1, or 1 to 2) ratios, depending on the time of year. It's also important to provide adequate micronutrients at the same time of a lawn fertilization including; Calcium(Ca), Magnesium (Mg), Boron (B), Manganese( Mn), Zinc (Zn), Molybdenum (Mo), Sulfur (S), Zinc( Zn) and Iron (Fe). When these nutrients are used in conjunction, this will ensure that plant cell walls will recover faster from common stresses such as heat and lawn mowing.
The more consistently you can spread out each nutrient, the more uniformly your grass will grow. The problems occur when too much or too little of each nutrient reach the plant. It's also a problem when inferior fertilizer products are used instead of professional grade fertilizers and weed control.
Modern fertilizer technology will steadily feed the plants over a longer period of time. This allows the plant roots to slowly absorb the nutrients to store as carbohydrates for later in the season. But if grass is force fed, the plant will expel much of its carbohydrate reserves by forcing top growth/shoot growth. And the future result is a shallow root system and a lawn that is thin, has less drought tolerance, and cannot repair itself in times of stress.
To avoid the guesswork and ensure your lawn will look great, choose SeasonGreen's lawn fertilization service. We have knowledgeable managers that will guarantee professional results this season.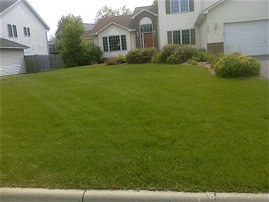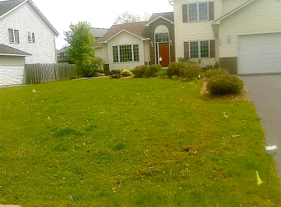 Our fertilization program will improve your lawn
Our custom tailored program will integrate turf improvement techniques, state-of-the-art products, and a professionally trained service team to keep your lawn healthy and deliver great looking results.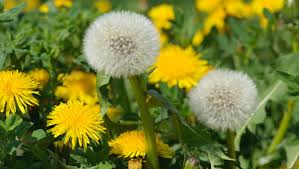 Your lawn needs help this spring and our lawn fertilization services will get your season started right.
Proper lawn fertilization
Proper lawn care, fertilization, and weed control are very important aspects of a good looking, healthy lawn. By combining select fertilizer nutrients to grass roots, at key times throughout the year, we can keep your lawn healthy while looking green and lush.
Lawn Fertilization Links
Fertilization home
Award-winning lawn fertilizer services
A custom-tailored lawn fertilizer program will give your lawn the help it needs now and throughout the season.
SeasonGreen signature service
We've been hard at work refining our lawn fertilization service so we can deliver on our promise of a nice healthy lawn.
Why us? >
Precise treatment scheduling
Our immpecably-timed treatment schedule will take full advantage of naturally occurring growth cycles.
Treatment schedule >
Importance of hiring a lawn service
To keep your lawn looking it's best requires specific fertilizer and weed control treatments at exact times throughout the year.
Why hire a service? >
Get a detailed outline of our prices and terms of service. It only takes 60 seconds and we'll have you scheduled for service today!
Privacy Policy
We will never share your info.
Copyright © SeasonGreen. All rights reserved.
NORTHWEST
Golden Valley
Robbinsdale
Crystal
New Hope
WEST
Plymouth
Maple Grove
Minnetonka
Eden Prairie
Wayzata
SOUTH
St Louis Park
Minneapolis
Richfield
Edina
Hopkins
NORTH
Champlin
Brooklyn Park
Brooklyn Center
Blaine
Coon Rapids